Global design and BIM software developer Vectorworks, Inc. announces version 2.4 of its partner product, the pedestrian simulation software tool SimTread, which assists with creating and verifying a design's circulation pattern. Developed by A&A Co., Ltd., the Vectorworks distributor in Japan, in partnership with Waseda University and Takenaka Corporation, SimTread can aid in analyzing an array of crowd control needs — whether studying the flow of people as they slowly meander through an art museum or determining the evacuation flow of tens of thousands from a football stadium.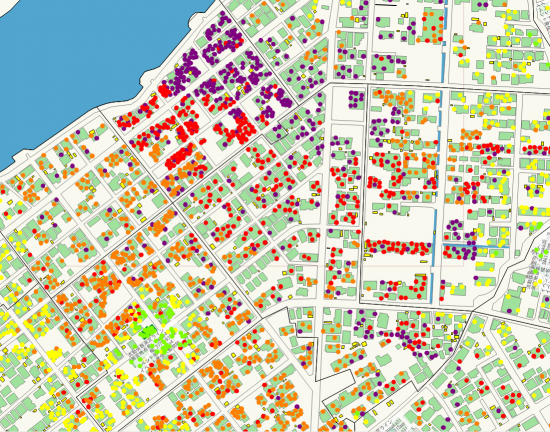 "There is great power in SimTread's capabilities, as it can save lives, so it's of the utmost importance that the program continues to be improved," said Dr. Takeshi Kimura, manager of research and development at A&A. "The latest version keeps with this mentality and includes several beneficial visualization features that can help those responsible for disaster preparedness, public safety, facilities management and event planning, all with the point of safety at the forefront."
Outlined below are three key visual enhancements to the latest SimTread release:
The "Create Measurement Result" command offers a new way to display reports to clients using a color-coded map on top of a floor plan, which helps to identify potential egress bottlenecks. Specifically, it displays occupant density within a specified measurement area of a Vectorworks document. Previously, SimTread only offered a movie file as the visual representation of the simulation result, and, although it intuitively showed the nature of the crowd, this new command provides a more qualitative, visual report.
The visual reporting feature, "Plot Travel Time" command, will plot the time it will take for each individual occupant to evacuate from a building model within a Vectorworks document. After the simulation, SimTread displays a circle over each occupant's starting position, color-coded to indicate how long it took each individual to evacuate. The demand for such reports arose from the need to plan for city evacuations.
Vectorworks objects that appear as holes in plan view, such as columns, will be recognized in the updated simulation software.
"Among SimTread 2.4's many updates, the improved graphical presentation of the program's results will help articulate the benefits of large-scale evacuation planning," said Jeremy Powell, product marketing director at Vectorworks. "These new visualizations came from our research and consultancy work, so we hope it will benefit other users, as well."

SimTread is sold and distributed in the U.S. by Vectorworks, Inc. To purchase or to learn more, visit our partner page at vectorworks.net/community/partner-community/industry-partners/simtread or visit booth #2345 at the American Institute of Architects (AIA) Convention 2016 in Philadelphia, PA from May 19-21, 2016.