Logopress Corp., Besancon, France, along with their North American distributor and technical center, Accurate Die Design, Inc., of New Berlin, Wisconsin has just released a new affordable, fast and easy to use product that is fully integrated inside of SOLIDWORKS called Logopress3 NESTING. Logopress Corp which is celebrating their 25th anniversary this year, highlights the fact that their only business has been the development of die design software for the tool & die industry as well as flattening and blank prediction software for many kinds of parts and industries. Logopress3 solutions are currently used in over 30 countries around the world.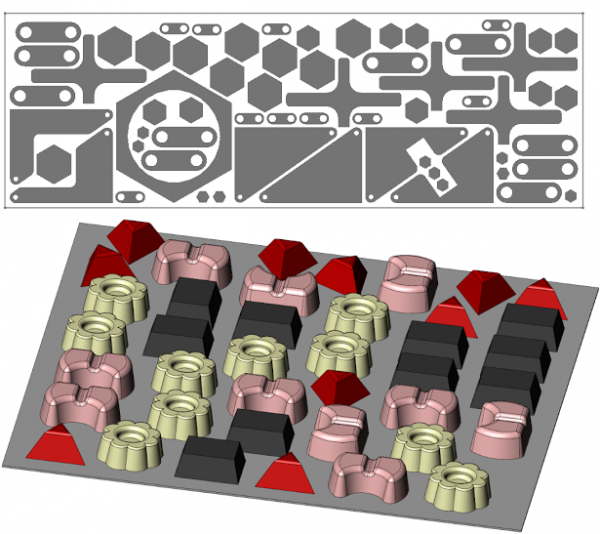 The new product is called Logopress3 NESTING and it is also intended for many kinds of parts and industries and includes many options such as; the ability to set a sheet size to nest on or set only the width, angular control and constraint of parts, the option to nest into openings or not to, automatic report generation, etc.
Logopress3 NESTING starts with either a multi-body part file (either created with SOLIDWORKS or imported from a different CAD system) or with individual part files that are in an assembly. After setting some logical parameters that allow extreme flexibility, it will quickly nest the parts per the options that the user sets. No formal training is necessary.
For a die designer, this module is for example very useful when building Wire EDM burn blocks or for nesting various shaped sharpening shims for under die inserts. Logopress3 NESTING helps various industries and a wide array of applications such as: sheet metal, cloth, textile industry, plastics, adhesives, aerospace, leather (shoes), composites, inflatable objects, food industry, packing, packaging, shipbuilding toys and much more.
Logopress3 NESTING may be purchased as a SolidWorks add-on but is also by default included in the Logopress3 Die Design package.